Religious groups attack London family planning conference as 'blatant attack on morality'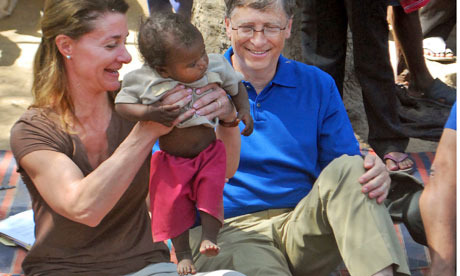 Melinda and Bill Gates visit a village near Patna in the Indian state of Bihar.
Photograph: Aftab Alam Siddiqui/AP
Campaigners have attacked a "war on women" being waged by religious organisations before an international summit on family planning to be held in London this week.
The conference, co-hosted by the Department for International Development (Dfid) and the Bill and Melinda Gates Foundation, plans to raise money and awareness to bring contraception to millions of women and girls in the developing world.
This weekend Melinda French Gates, the wife of the Microsoft founder and one of the world's richest women, tried to deflect controversy around the summit. In an interview to be broadcast on CNN on Sunday, she said giving women better access to contraception had become her lifetime's work.
Gates, who is a practising Catholic, has been targeted by religious groups, which have described her mission as a "blatant attack on morality" and an elitist effort at population control.
In response Gates said the lack of family planning available to 210 million women was "a crime". She added: "We made birth control and contraceptives way too political in the US. I think if people understood that 200 million women want this around the world they would start to say, 'OK that makes sense.'"
Written By: Tracy McVeigh,continue to source article at guardian.co.uk