An academic says he threatened to walk out of a debate hosted by the Islamic Education and Research Academy (iERA) because organisers tried to segregate the audience.
Professor Lawrence Krauss, one of the world's leading atheists, was lined up to debate against Islamic lecturer Hamza Andreas Tzortzis at University College London on Saturday.
Women were reportedly told by organisers to sit separately from men and couples.
Krauss refused to participate in the debate, entitled 'Islam or Atheism: Which Makes More Sense?' until they changed their minds.
He tweeted: "Almost walked out of debate as it ended up segregated + saw 3 kids being ejected for sitting in wrong place. I packed up and they caved in."
Krauss posted a link to a video and account of the row from a woman who said she had been told "women were to sit in the back of the auditorium, while men and couples could file into the front."
*****************
Update: An article from The Guardian
UCL investigating after Islamic group debate segregated seating by gender
A professor speaking at the event organised by an Islamic group refused to participate unless segregation was abandoned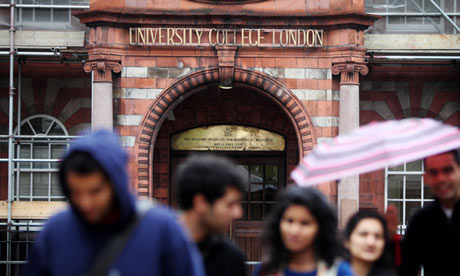 University College London. An Islamic group reportedly held a debate there at which seating was segregated by gender. Photograph: Rex Features
A London university has launched an investigation after an Islamic group hosted a debate on its premises with seating segregated bygender.
University College London said reports of segregation at the debate hosted by the Islamic Education and Research Academy on 9 March were worrying.
The debate, "Islam or Atheism: Which Makes More Sense?" featured Professor Lawrence Krauss, an eminent atheist, and Hamza Andreas Tzortzis, a lecturer on Islam.
When Professor Krauss saw people being removed from their seats, he said he would not speak at an event that was segregated and walked out to cheers and boos from the audience. An organiser pursued him and said segregation would be abandoned.
A spokesman for UCL said they learnt of the incident late on Sunday and were investigating to see if any internal policies had been infringed.
Written By: Tom Moseleycontinue to source article at huffingtonpost.co.uk